2021 Visit to Farndon on 19th August
We arrived at 6:30 pm at the Coach House, Farndon, which is along the Fosse Road, at the far end of Farndon.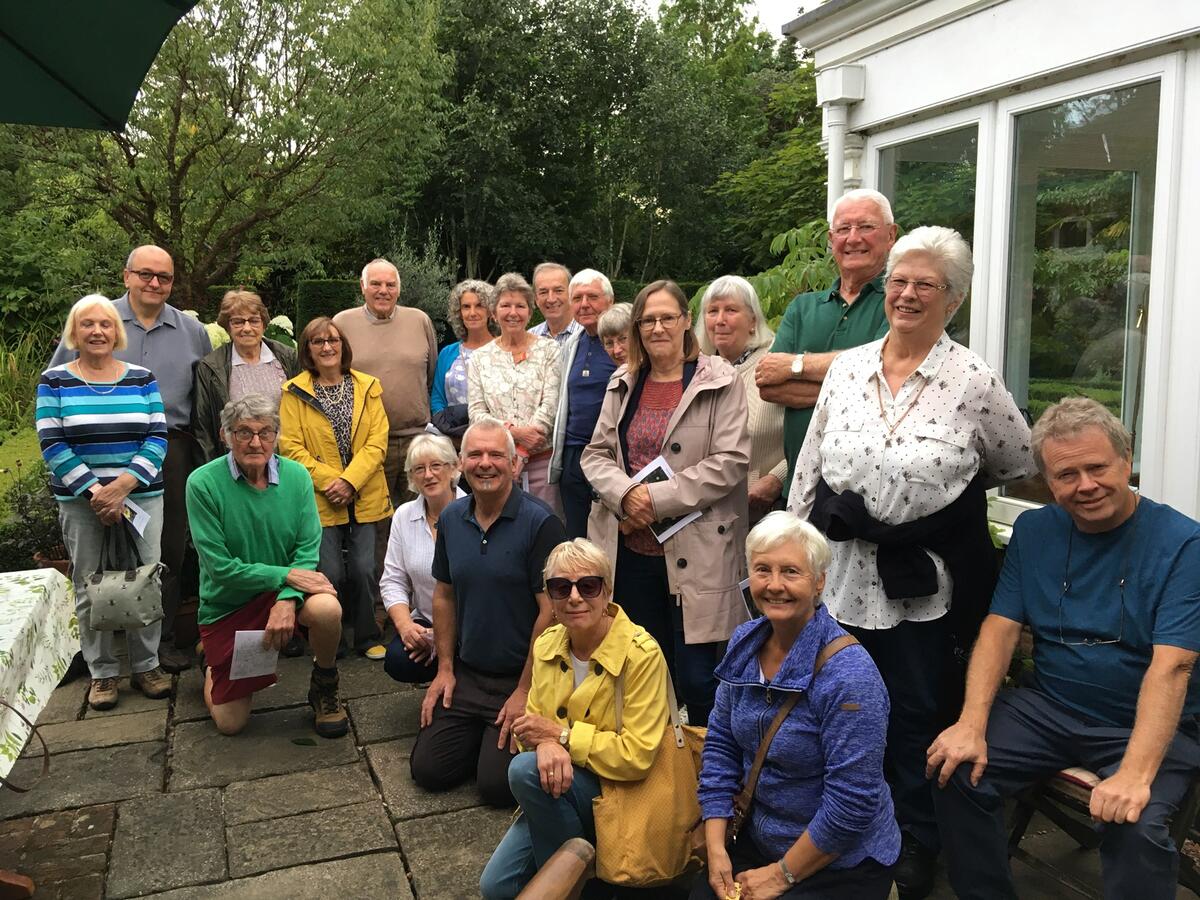 We were welcomed by Sir Graeme and Lady Svava Davies. Sir Graeme talked to our group about the history of the building (early 19th century red brick coach house with hipped pantile roof, with an in-character extension added in the 1990s), and the gardens which were created by the late Lady Florence Davies, starting in 2009. The development and upkeep was, and is still, done by the gardener and horticulturist Glenn Knight, who I understand currently spends a couple of days per week maintaining the plants.
It has two major garden areas, front and back, set in around 0.9 acres. The layout is based on the 'rooms' concept of Gertrude Jekyll. Both have several distinct sections and the planting is designed to give colour and interest through the seasons.
The front garden sections are notable for a wide selection of acers and dwarf acers, trilliums, and fuchsias, plus potted saskatoon, gingko biloba, and blueberries. Many of the plants are well labelled, which is very useful to visitors and there are photos in the 'gallery' below.
Going through a store room with nesting swallows leads to the back gardens, the first section being some impressive raised timber vegetable beds, two and three sleepers high.
The next section (rear east) has several unusual trees: most notably a tetrapanax and a monkey puzzle. There is also a south garden with a New Zealand plants section and a fernery; a west garden with a beautiful reflecting pool; and a rear courtyard garden. Sculptural elements including cylindrical topiary, metal wildlife and spherical metal balls add extra visual interest.
The owners were very generous providing background information and answering questions throughout the evening.
After the tour there was a raffle and the winning ticket for a bottle of fizz was picked by Lady Svava and won by Brian.
Some club announcements were made by Nigel and Janet, a vote of thanks given to the owners plus a round of applause, and we said our goodbyes.
If you would like to visit the Gardens, it is part of the National Gardens Scheme (ngs.org.uk), however Lady Svava said ours was the last organised visit of 2021.
Our next Garden Club meeting is at the Robin Hood Theatre at 7pm on Tuesday 28th September. This will be our AGM (which should not take very long), then Nigel will be giving a talk and demonstration entitled "Planting baskets and containers for winter interest".
John Clegg, ASK Garden Club Secretary